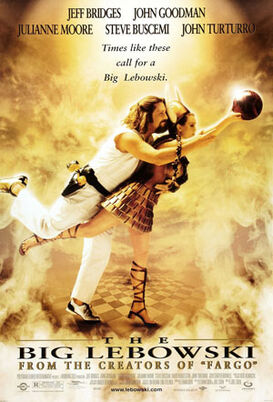 The Big Lebowski
is a 1998 crime comedy film with neo-noir elements, written, produced, and directed by Joel and Ethan Coen. It stars Jeff Bridges as Jeffrey "The Dude" Lebowski, an unemployed Los Angeles slacker and avid bowler. After he becomes the victim in a case of mistaken identity, The Dude finds a millionaire also named Jeffrey Lebowski who was the intended victim. When the millionaire Lebowski's trophy wife is kidnapped, he commissions The Dude to deliver the ransom to secure her release. The plan goes awry when the Dude's friend Walter Sobchak (John Goodman) schemes to keep the full ransom. Julianne Moore and Steve Buscemi also star, with David Huddleston, John Turturro, Philip Seymour Hoffman, Sam Elliott and Tara Reid appearing in supporting roles.
Summary
When "The Dude" Lebowski is mistaken for a millionaire Lebowski, two thugs urinate on his rug to coerce him into paying a debt he knows nothing about. While attempting to gain recompense for the ruined rug from his wealthy counterpart, he accepts a one-time job with high pay-off. He enlists the help of his bowling buddy, Walter, a gun-toting Jewish-convert with anger issues. Deception leads to more trouble, and it soon seems that everyone from porn empire tycoons to nihilists want something from The Dude.
References to Alice in Wonderland
Sources
Gallery
Ad blocker interference detected!
Wikia is a free-to-use site that makes money from advertising. We have a modified experience for viewers using ad blockers

Wikia is not accessible if you've made further modifications. Remove the custom ad blocker rule(s) and the page will load as expected.