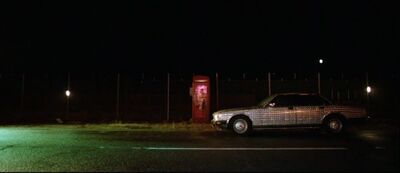 The Caterpillar's Car
is a location/vehicle seen briefly in the
film
.
Description
The car is a XJ6 model. The base XJ6 of the model range was modestly equipped; extra-cost options included alloy wheels, anti-lock brakes, air conditioning, leather upholstery, and an automatic transmission. The exterior featured two pairs of circular headlamps and black powder-coated window frames.
Malice in Wonderland
Alice is picked up by the Caterpillar. The police were chasing after the Caterpillar, so Alice was dragged into the vehicle through the window. A hooker wad in the car, also. Alice was taken to the Doochey mansion, there she can get an invitation to Harry's party.
Trivia
Ad blocker interference detected!
Wikia is a free-to-use site that makes money from advertising. We have a modified experience for viewers using ad blockers

Wikia is not accessible if you've made further modifications. Remove the custom ad blocker rule(s) and the page will load as expected.