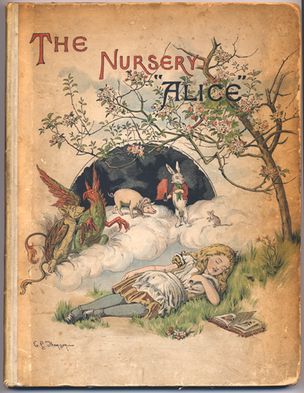 The Nursery "Alice"
(1890) is a shortened version of Alice's Adventures in Wonderland (1865) by Lewis Carroll — pseudonym of Charles Lutwidge Dodgson (1832–1898) — adapted by the author himself for children
"from nought to five"
. It includes 20 of John Tenniel's illustrations from the original book coloured and enlarged.
It was first published in 1890 by Macmillan, 25 years after the original Alice, and featured a new cover illustrated by E. Gertrude Thomson, who was a good friend of Dodgson.
External Links