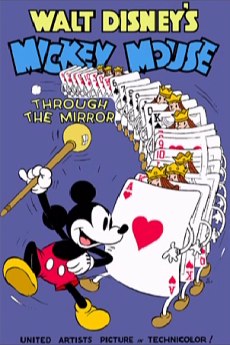 Thru the Mirror
is a Mickey Mouse cartoon short film produced by Walt Disney Productions, released by United Artists in 1936. In this cartoon short, Mickey has a
Through the Looking-Glass
-type dream that he travels through his mirror and enter a topsy-turvy world where everything is alive. While there, he engages in a Fred Astaire-type dance number with a pair of gloves and a pack of cards, until the cards chase him out of the bizarre world. The title is written as
Thru the Mirror
on the title card, but the alternative spelling
Through the Mirror
is used on the poster for the film.
Synopsis
Mickey falls asleep after reading one of Lewis Carroll's books. An astral projection of himself leaves his body and wanders through his mirror into an alternate version of his house. His furniture and possessions have come to life complete with faces and personalities. Mickey eats a walnut and shrinks. He is now tiny and begins to dance his way through his house, dancing with his possessions and eventually the queen of hearts card. The joker, on his bicycle notices and alerts the king of hearts who fights for his lady and calls an army of cards after he is defeated. Chaos ensues and Mickey runs from the cards and blasts them with a fountain pen. He turns on an electric fan to blow the cards back, swings from a lamp rope, runs on a globe, and escapes to the right side of the mirror. Eventually he is awakened by his alarm clock and it has all been a dream, and goes back to sleep.
Trivia
This cartoon was featured in Disney's Magical Mirror Starring Mickey Mouse. (And referenced, too.)
Sources
Gallery
Ad blocker interference detected!
Wikia is a free-to-use site that makes money from advertising. We have a modified experience for viewers using ad blockers

Wikia is not accessible if you've made further modifications. Remove the custom ad blocker rule(s) and the page will load as expected.