Whitey is a character seen in Malice in Wonderland.
Movie Story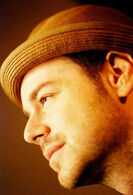 Whitey had accidentally knocked down
Alice
. He was in a hurry. He places Alice in his car and takes her along with him. He takes her to
Sunderland
. Whitey is seen speaking to himself. He then saves Alice from Gonzo. He then takes Alice to get some food. Later, he takes Alice to a bus stop. Whitey then goes to speak with
Doochey
. Later, he goes to a
convenience store
. He then sees a news
announcement about Alice's disappearance. He then goes back to the bus stop but she wasn't there.
Whitey then saves Alice from the trucker. He then drives Alice to motel. There, Alice was thinking about her name. Whitey then leaves and is knocked out by one of Gonzo's men.
Later, Whitey arrives at
the Hearts Club
with Harry's present. Whitey had manages to get Gonzo killed. Later, Harry wanted to get rid of Alice. Alice is then put to trial. Whitey is thrown out of the club. Later, he is shot by
Harry and he dies.
Whitey is then seen as Alice stops him from driving the cab. Alice then manages to gain his trust. Whitry then takes Alice to Hulme Street. They speak to Mrs. Jones. Whitey then takes Alice to the subway station.
Relationships
He seems to be infatuated with Alice.
Quotes
Main article: Whitey/Quotes.
Trivia
Film Portrayal
Danny Dyer portrays Whitey.
Gallery
Ad blocker interference detected!
Wikia is a free-to-use site that makes money from advertising. We have a modified experience for viewers using ad blockers

Wikia is not accessible if you've made further modifications. Remove the custom ad blocker rule(s) and the page will load as expected.